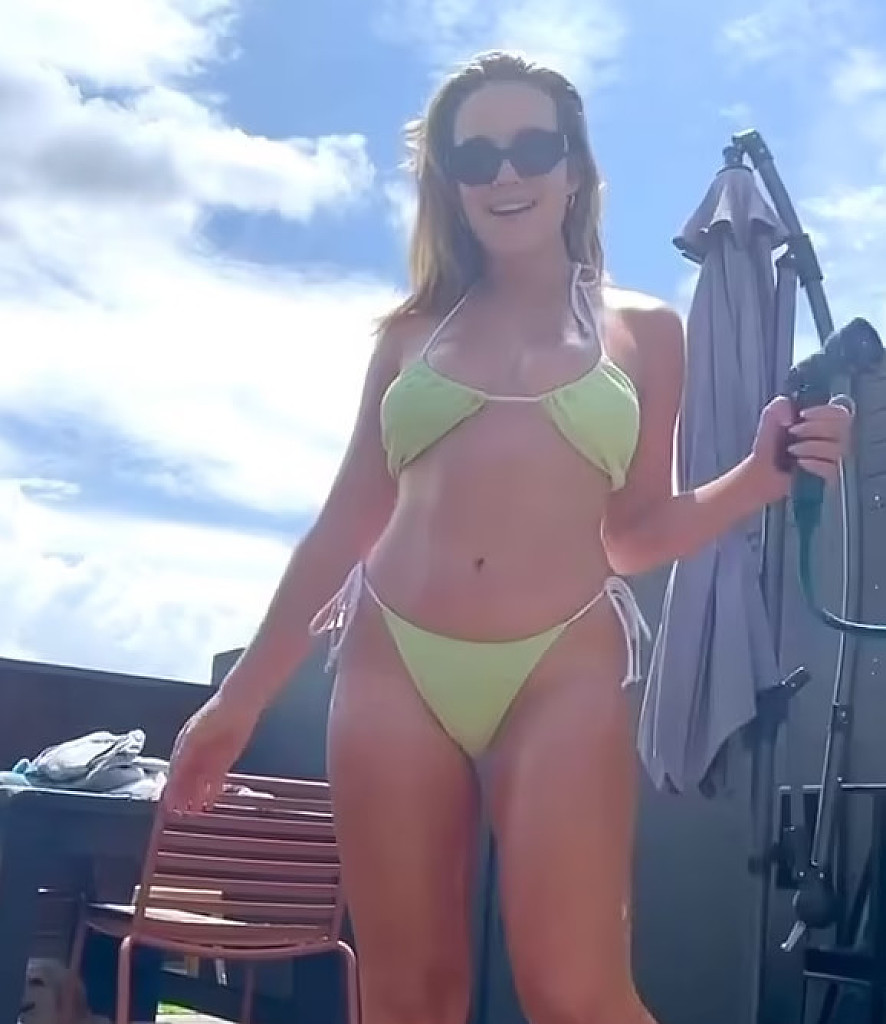 Abbie Chatfield shared 'two joyous moments' in the Victorian city, where she showed off her curves in a skimpy green triangle bikini.
The 26-year-old, who rose to fame on Matt Agnew's season of The Bachelor, hosed herself down on the balcony in a candid video, before an adorable Golden Retriever dog 'sat on her face.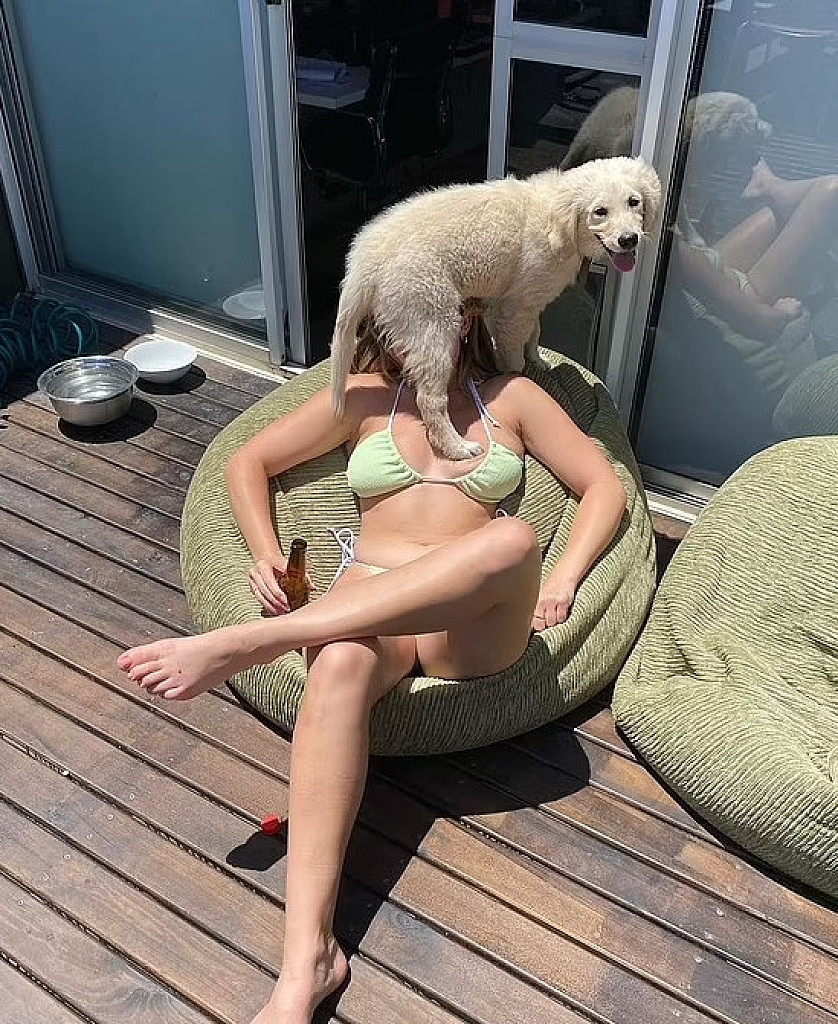 Abbie revealed her figure in scanty swimwear as she cooled off, and looked every inch the influencer with trendy sunglasses and wavy blonde tresses.
She then posted a hilarious photo of herself lounging on a bean bag on the balcony, with a Golden Retriever puppy deciding to literally sit on her face.
The podcast host then took to the comments section to add further commentary, at first describing her impromptu cool-off session.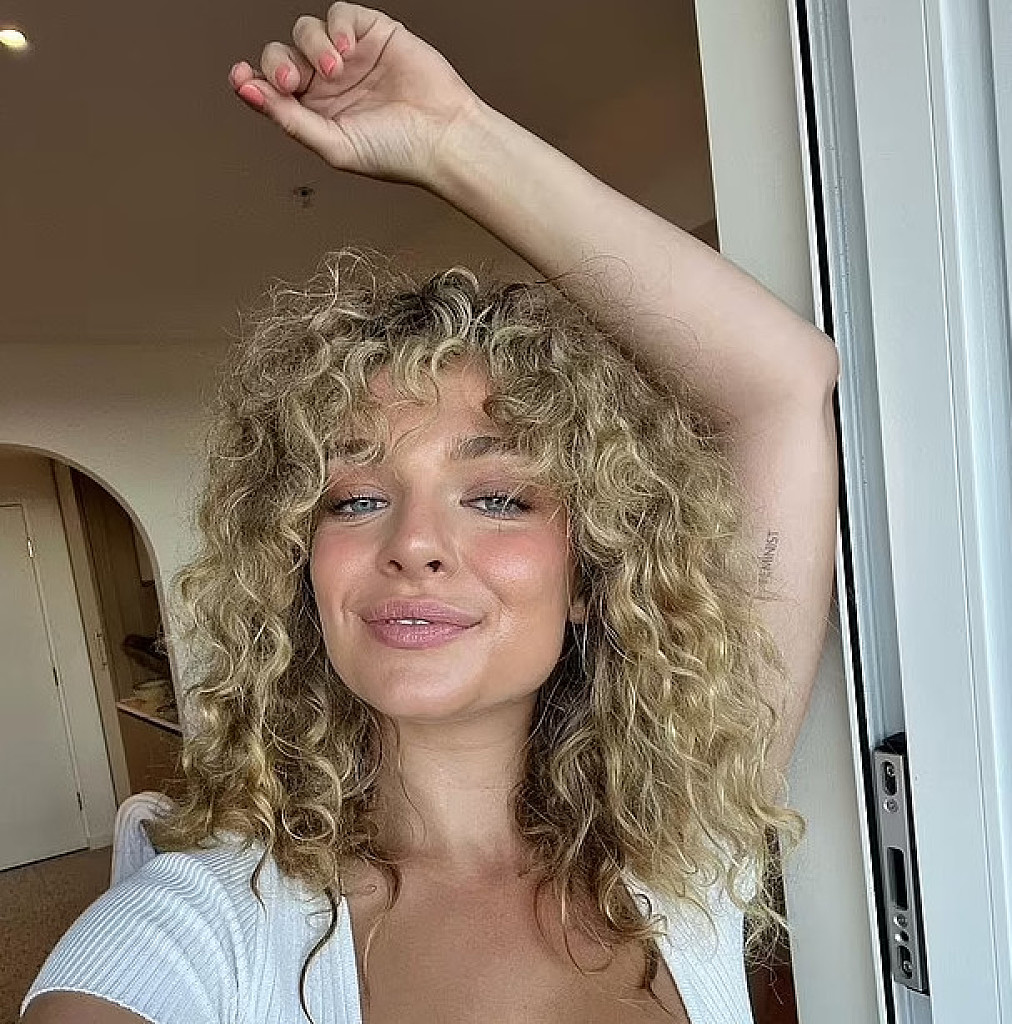 Abbie's self-deprecating posts come after she told last week that she already envisions marriage in her future with Konrad.
During the interview, Abbie also revealed that she was meeting the 31-year-old's parents in Melbourne this week.
Asked by the publication whether marriage is on the cards, Abbie responded: 'I think so, I hope so.'
The beauty, who said she's dated a lot over the past two years, added that she's 'never had anything like this before, with their romance going from 'zero to 100'.
Earlier this month, Abbie issued a lengthy apology after she was criticized by Brooke Blurton for announcing their relationship the night before The Bachelorette finale.
Abbie explained her decision to go public with Konrad, claiming she believed she had Brooke's blessing.
'This is to address the post made by Brooke. A month ago, a video of Konrad and I kissing was secretly captured by a patron and made public,' she began. 'Following this, Brooke and I had a conversation in which I apologized and expressed regret multiple times for our public affection as this was prior to Konrad's exit from the show. Konrad had a similar conversation with Brooke.
'We met as a result of him coming along to catch up with a mutual friend, the public setting was an accident. We absolutely should have waited to be in private as we are public figures and these are things we need to consider, but we didn't. We also didn't consider the possible ramifications of our actions. Immediately following this, we intentionally kept things quiet, and did not leave the house together in an effort to not be photographed out of respect for the show and to minimize press surrounding the spoiler of Konrad's exit.'
(Mon 13) Views: 1,279
·
Read All Bikini News Daily
Link to story: https://bikininewsdaily.com/bnd/AbbieChatfieldhosesherse-2624