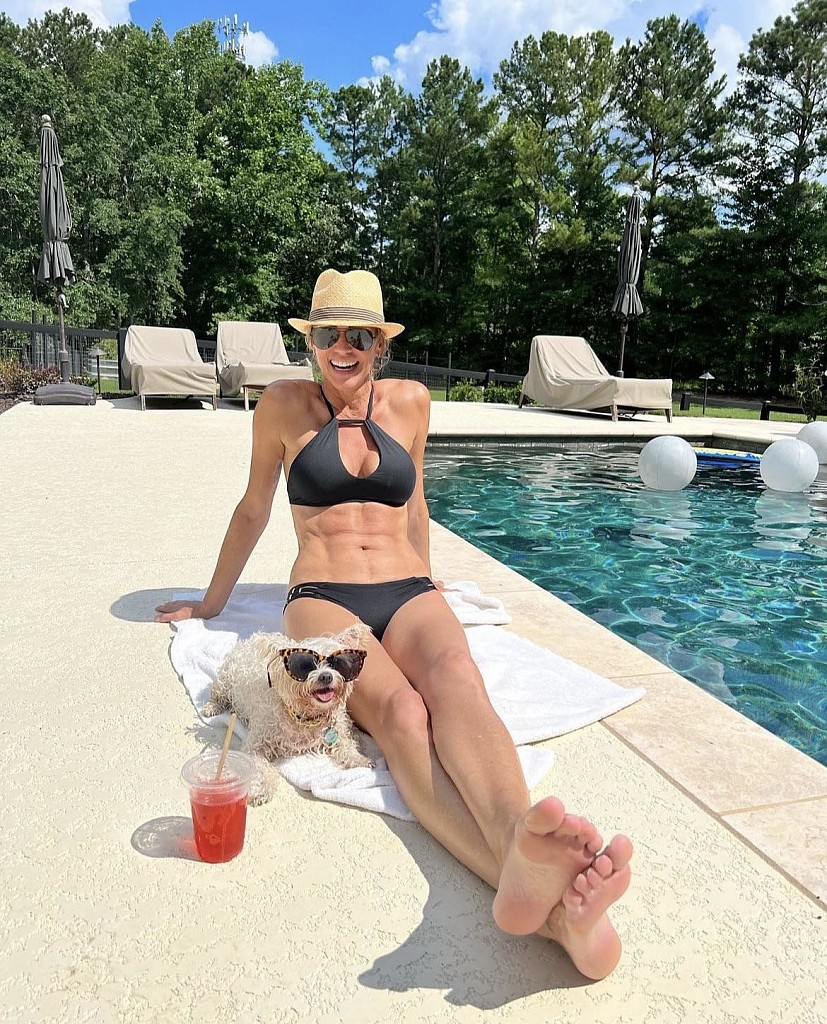 Tricia Helfer first started out as a model in her teens. She then transitioned to acting, with her first role being on the series Jeremiah. She then starred on hit series like Battlestar Galactica, Suits, and Lucifer. Helfer shared a new photo to her Instagram this week. In it, she enjoyed a pool day, and broke out her black two-piece swimsuit. Helfer captioned the post, "Pool season has started! A little R&R after transplanting 15 plants all afternoon. 4 left to do and another 4 to buy, so tomorrow is more.
Helfer has amazing skin, and she makes sure to take care of it. She shared some of her secrets in an interview with RealStyleNetwork.com. "As for products, I have a mixture and like to vary it up depending on the weather and the climate I'm in. In the summer or humid climates, I tend to use Nars Aqua Gel Luminous Oil-Free Lotion, AquaGel Luminous Mask and Eye Cream Concentrate and Kiehl's Microdermabrasion serum. In the winter or dryer climates, I use La Mer Concentrate Serum, La Mer Eye Cream and Crème de la Mermoisturizing lotion. I also love Kiehl's Midnight Recovery Concentrate Oil and eye cream. That was the only thing that kept my skin from windburn and chapping while on a cross-country motorbike trip. The best sunscreen I've ever used is Kiehl's SuperFluid."
In 2014, Helfer shared some of her wellness secrets in an interview with SELF. She says that she does a lot of different things to stay in shape. "I'm a heavy-duty hiker with some calisthenics as well — you have to tone up, too. But there always has to be some cardio involved. You gotta get your heart rate going. To keep things fresh, I mix up my workouts: One day [I'll do] yoga, one day's running and weights, one day I'm doing Pilates, one day's hiking."
Helfer revealed her secrets for staying motivated to workout to SELF. "When I need extra motivation, I tell myself, that I'm fortunate to be able to work out and plenty of people can't. Like when I envision my grandfather and how hard it is for him to even move around, I think, 'You know what? Not only is it gonna help you move around when you're older if you stay active when you're younger, but you're also gonna have a better shot at getting old if you're working out.'"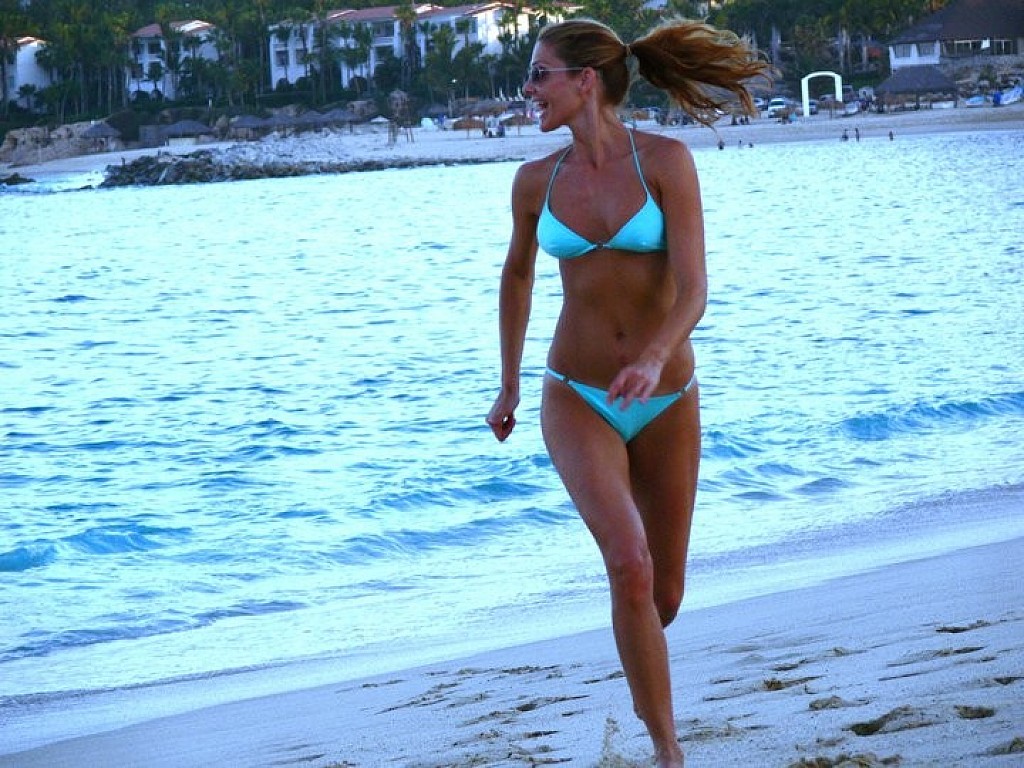 Helfer tells SELF that she spends a lot of time outside. "Sunday mornings at 11 AM, you'll find me probably about to go on a hike. All my cats would be fed. And I would have had a protein smoothie and a green tea almond latte and I would be about ready to go on a two-hour hike. Or if it's a beautiful day, I may be out riding motorbikes all day and I will have already been on a bike for 4 hours."
Helfer shared her favorite fast, healthy, dinner option with SELF. "I chop up a mixed salad with some cut-up fake turkey. I don't eat poultry or meat but I really like some of those vegetarian 'Smart' meats — I really like the fake turkey slices. My cat is insane about 'em, too! And for a dressing — red wine vinegar, olive oil, dijon mustard, and a little salt and pepper. It's as easy as that."
(Mon 22) Views: 203
·
Read All Bikini News Daily
Link to story: https://bikininewsdaily.com/bnd/TriciaHelferenjoyedapool-3925